A 3d model of the CTIPE TOTAL ELECTRON CONTENT FORECAST by NOAA and the NWS
OPEN the project.
(https:scottandrecampbell.com/static/ctipe)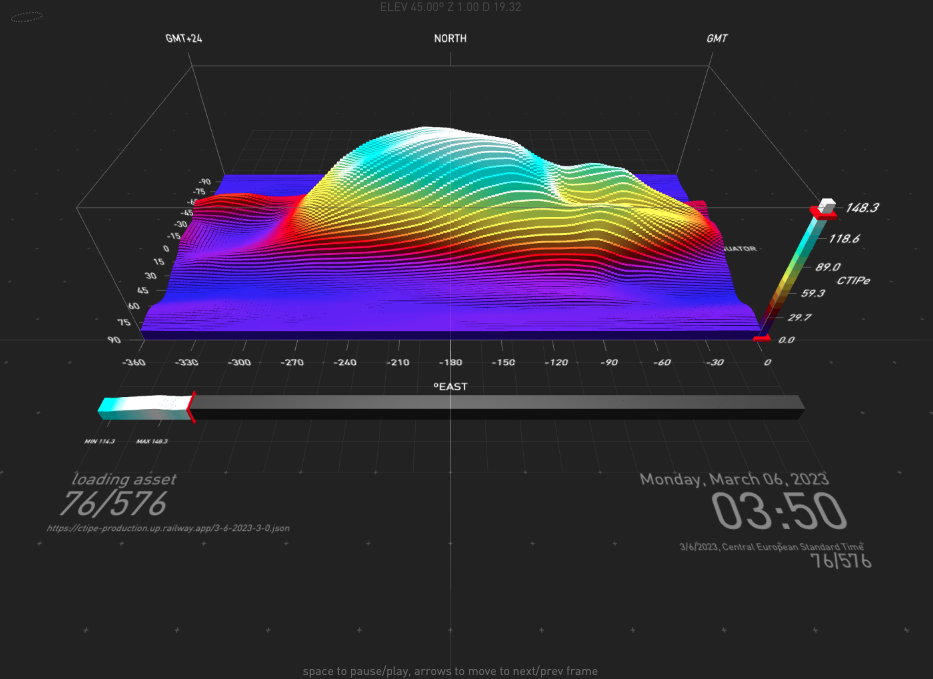 Dataset from www.swpc.noaa.gov. From the site:
The plot illustrates the height integrated electron density (TECU, 1 TECU = 1.e16 electrons/square meter) also called Vertical Total Electron Content (VTEC), vs latitude (-90 to 90 deg) and longitude (0 – 360 deg) from the Coupled Thermosphere Ionosphere Plasmasphere Electrodynamics Model (CTIPe). CTIPe is a state of the art research tool used at the Space Weather Prediction Center to study thermosphere-ionosphere phenomena in order to develop nowcasting and forecasting algorithms for space weather. The objectives are to understand and quantify the importance of the upper-atmospheric mechanisms that affect human activities and to develop new monitoring and predicting techniques.

swpc.noaa.gov/products/ctipe-total-electron-content-forecast
This model intends to show the "charge" in the ionosphere. Color values are exaggerated by the Y-axis in the model. The timeseries ends with now and starts 4 days ago at 10 minute intervals. To store the timeseries, a small python app was created ("ctipe" sourcecode at github) (currently on railway) and its api shares specific time requests to the app (node).
This required some pretty exhaustive mental notes.
Familiarity with this dataset comes from experience: it was a key-component of the THREADING EXPOSITION.